Interior Surveillance Camera
Secure, reliable digital CCTV technology for trains

Capture and replay high quality digital footage in real time.
Our highly flexible, digital eyeTrain interior surveillance camera has been developed in-line with all CCTV legislation and can be used for a wide variety of purposes, including improving passenger safety and experience, anti-terrorism measures and operational reliability monitoring.

Our ruggedised products can be fitted onto new or existing rolling stock, allowing you to use the same technology seamlessly across your entire fleet.
Key features of our Interior Surveillance Camera
Download our product data sheet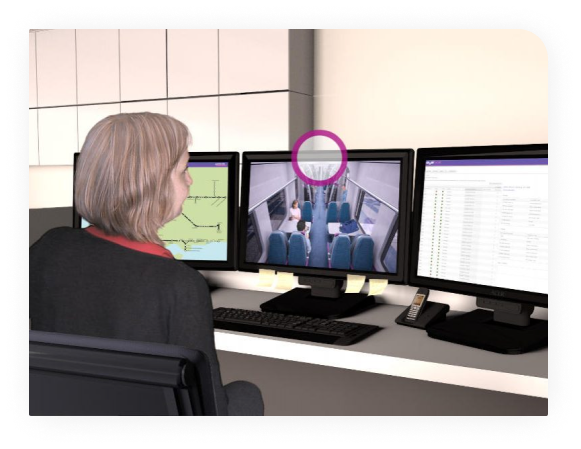 The eyeTrain CryptoVision software allows video search, viewing and export by streaming captured CCTV video to on-board devices and off train via an eyeTrain or third party gateway in real time.
This enables real time decisions to be made regarding incidents that may impact passenger safety or operational reliability, whilst also facilitating network management, installation and commissioning from a single point on a train or remotely.
Support and accreditations
A trusted technology partner to train builders and operating companies for more than 20 years.
You can rely on our highly skilled engineers to support you throughout your journey with Petards Rail. From the specification of your project, whether new build or retrofit, to the installation and lifetime support of our products.
Our eyeTrain Interior Surveillance Camera complies with client approved development processes and standards including:
EN 50155
EN 50121
The British Transport Police guidelines
EN 50132-7
The Data Protection Act
HOSBD
BS EN ISO 14001:2004 (EMS 534323)
PAS 99:2012 (IMR 534323)
The 'Railway Industry Supplier Qualification Scheme' (RISQS) (formerly Achilles Link-up)
ISO 9001:2008 (FM21102).
The eyeTrain Interior Surveillance Camera solution is in active use by law enforcement agencies for investigation and prosecution.
For more information about our rail solutions and services, get in touch with us today.